The Benefits Of An Electric Hedge Trimmer
With an electric hedge trimmer, the usual hassles of hedge trimming virtually disappear. These trimmers are convenient, easy to use, affordable and even environmental friendly.
Most hardware retailers sell hedge trimmers. With so many options out there, it's hard to know which is best. However, buyers can rest assured that an electric hedge trimmer is an excellent choice. Battery-powered trimmers are perfect for DIY projects and everyday yard work.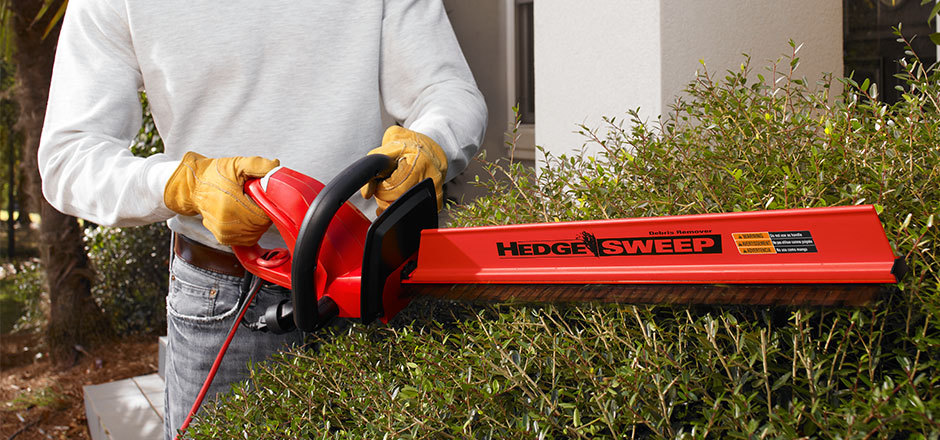 An Electric Hedge Trimmer Trumps All Others
An electric trimmer is a lightweight and easy to use option when it comes to trimmers. The most common alternative to an electric trimmer is a gasoline-powered trimmer. This type of tool needs to be refueled often, and therefore can be expensive to use. Depending on how often the trimmer is used, the operator can end up spending quite a bit of money on gasoline just to keep it running.
A gasoline hedge trimmer also tends to be noisier, and emit more air pollution than an electric trimmer. Gasoline trimmers are harder to start, whereas electric trimmers start at the push of a button.
With an hedge trimmer you can:
Do DIY weekend projects
Keep your yard looking nice
Tame wild and overgrown shrubs
Save money by skipping the gasoline
Easily move and store your trimmer
Which Type Of Electric Hedge Trimmer Is Best?
Hedge trimmers can be divided into two main categories: cordless and corded hedge trimmers. Both options have their benefits, and both are very powerful, capable tools. An electric trimmer with a cord obviously needs to be plugged into a power outlet in order to run. Some trimmers come with extremely long cords, but users can also use extension cords to make it possible to take the trimmer further from the outlet.
The downside to electric trimmers with a cord is that the user may be somewhat limited on where they can use the trimmer. The cord may also get in the way, making it harder, and possibly more dangerous to use the tool.
Battery-powered electric hedge trimmers are very easy to use. Instead of being powered with an electrical cord, they are powered with rechargeable batteries. These trimmers come with a recharging cord or dock. In general, an electric hedge trimmer becomes much more mobile when it is cordless. Users don't have to be near a power outlet to use the tool, and they don't have to worry about dragging a cord behind them as they work. Of course, a battery-powered trimmer needs to be recharged after it is used.
An hedge trimmer is the perfect solution for a weekend project or for someone looking for the right tool to help them keep their yard looking beautiful all year. For more information, and to find out if an electric hedge trimmer is what you are looking for, please see the other articles on http://opl2.com.
The Benefits of an Electric Log Splitter
Wood cutting, then splitting them up, and finally piling them for firewood or for other purposes are taxing for anyone. The tool called maul, a resemblance between a hatchet and a sledgehammer, was used in the early days. And most people who have used it attest to its unsafe and complicated use. What happens is the man points the sharp end of the maul in the middle of the trunk to cut it in half. Next is to quarter it, stack it, and let it dry prior to firewood use.
However, today makes everything much simpler for anyone with the creation of an electric log splitter. An electric log splitter is a heavy-duty tool that substitutes the old-fashioned maul to make the job done in lesser time. Since most of these electric splitters have a rod and piston assembly, it sheds beyond 10 tons of pressure on the wood than a maul can do. The piston drives the log in a stationary blade. Other models of log splitters have other extra features as well that give support such as prevention of tree parts from falling away after splitting, or permitting the operator to move the wood around at speed.
Although using an electric log splitter is safer than a maul or axe, there is really no assurance of complete safety if we talk about construction or forestry equipment. The electric log splitter is only permissible to be operated by someone who has undergone proper training, for they know better the safety zones and procedures when using one.
So how much does an electric log splitter cost? Well, any log splitter, for that matter, is expensive. Whether you intend to purchase a second-hand or brand new splitter, there are rather minimal differences in cost. In short, both of them are still regarded as expensive tools, that is because the quality and performance of the log splitter does not change in time.
This only means that once you purchase a log splitter, you have a great companion for work, for life. You do not have to worry about losing its quality performance, because the features of a log splitter, like self-lubricating and sustaining, attest that it can maintain its good performance over time. However, we should not depend only on that as well. As users of the log splitter, we should also know how to extend proper care and maintenance to our valued tool.
After every use, make it sure that you wipe off every stain or dust on the metal and polish it before keeping it in stack. You can make use of auto wax or cleaner to get rid of the sap or residue from trees. By simply doing so, you help your log splitter maintain its quality at all times.
Buying any equipment and not keeping it in shape before and after use is like throwing your money carelessly off the garbage bin, instead of having those equipment as real investments at home or work. We should keep in mind that tools like man need nurturing.